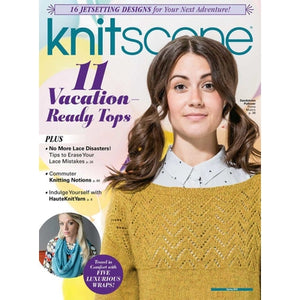 KNITSCENE SPRING 2019
A love for all things air, travel, and knitwear inspires the Spring 2019 issue of knitscene—an exciting edition with projects geared toward adventurous, stylish knitters like you.
Our Jetsetter story features seven projects so cozy, chic, and practical that they're sure to improve your travel experience. Our Lace story has nine great layering and statement pieces to wear on and off the plane. I hear you saying, "You want me to knit a lace pattern on the go—are you insane?" Well, Roxanne Richardson's article "Fixing Common Mistakes in Lace Knitting" has you covered with masterful lace problem-solving.
Delve into some gorgeous skeins from HauteKnitYarn, an indie dyer with designer bases and exciting shades. Plan for success with notions designed for travel knitting with our Gear Guide. And if you find yourself in a bind, we have some suggestions for utilizing found objects to replace missing notions.
---
We Also Recommend
---