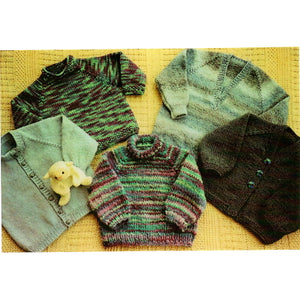 KID'S TOP-DOWN RAGLAN
Brand: Ann Norling
Designer: Gail Tanquary
Skill Level: Advanced Beginner
Craft: Knitting
Pattern Type(s): Sweater
To Fit Size: 1-12
Finished Size: Chest measurements: 24-36"
Materials: Worsted Weight (250 - 1025 yards - dependent on desired size and gauge)
Gauge: 3.5, 4.5, 5, 5.5 sts/inch
Needles: Dependent on size.  Straight needle sleeves and sleeve ribbing.  16" or 25" circular for ribbing.  26" for body.
You're going to love doing this sweater. There's so much less finishing than a regular sweater. See back page for materials and yardage needed. Here's how it works:
Part 1: Neck for all Styles: The neckline begins the same for all types.
Part 2: Yoke Section (pick a style): Do you want a pullover or a cardigan? Do you want a crew neck or V-neck?
Part 3: Sleeves & Body (work your style): Slide the body stitches to circuclar needles as holders and knit the sleeves flat or in the round. Go back to the body stitches, join together and work them flat for a cardigan or in the round for a pullover.
Part 4: Finishing: Work edges
Please Note: If the yoke doesn't measure the specified length, work additional rows without increasing. If the yoke is slightly longer than specified, it's okay. Just adjust length of body and sleeves if necessary.
---
We Also Recommend
---