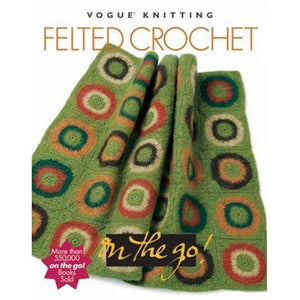 VOGUE KNITTING FELTED CROCHET
What a combination! Two of today's trendiest fiber arts come together like yarn and hooks in this newest On the Go title: crochet and felting.  Colorfully illustrated, and with great projects that range from bags, scarves, and blankets to toys, a notebook cover, and even a set of baskets, it's got something for crocheters of all skill levels. Sweet rosettes adorn either end of the irresistibly fuzzy lavender scarf. Two attractively designed totes sport vivid hues: one comes in rich sea blues and greens, the other features lots of hot pink and orange. And any child would love the cuddly stuffed penguin.
It's another winner for the successful Vogue® Knitting on the Go! series.
---
We Also Recommend
---