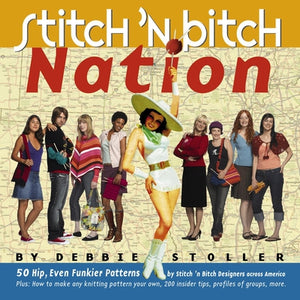 STITCH AND BITCH NATION
Join the movement! Four million strong and counting, hip, young chicks with sticks are putting a whole new spin on knitting--while turning last fall's Stitch 'n Bitch: The Knitter's Handbook into a surprise national bestseller (from The New York Times to the L.A. Times to BookSense) with 215,000 copies in print. So influential is the book that the number of Stitch 'n Bitch knitting groups tripled in the past six months--spawning a Stitch 'n Bitch Nation.

Written by Stitch 'n Bitch author Debbie Stoller, Stitch 'n Bitch Nation features 50 hip, new, even funkier and more fabulous patterns by Stitch 'n Bitch designers, who come from San Francisco to Brooklyn, Chicago to Cambridge to St. Paul, Minnesota. The Om Yoga Mat Bag. Felted Monster Slippers. The London Calling Union Jack Sweater, because even punks get cold in winter. A Double-Duty Shrug. Polka Dot Tankini. That '70s Poncho. The Boob Tube. Spiderweb Capelet, Cabled Newsboy Cap, Chunky Baby Booties and Baby Bunny Hat. And the most ingenious project, a Knit-Your-Own Rock Star doll--with a choice of Joey Ramone or Henry Rollins. All designs are complete with full-color photographs and step-by-step instructions, and are made from sexy, contemporary yarns, including multicolored angora, alpaca, lace, and mohair. Includes the best tips, shortcuts, and techniques from Stitch 'n Bitchers, profiles of knitters and their groups, and a how-to refresher on all the stitches used in the book.
---
We Also Recommend
---