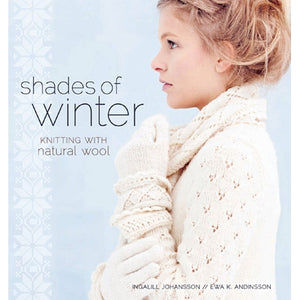 SHADES OF WINTER
Inspired by the sublime, subtle tones of wintry northern landscapes, the more than 35 projects in Shades of Winter showcase the natural beauty of pure undyed wool yarn photographed against the Scandinavian winter's snow crystals and cold.
These gorgeous garments--from tops, sweaters, dresses, and coats to hats, mittens, scarves, and shawls--evoke wool's warmth and softness in many different patterns and textures. A knitter of any skill level and inclination will surely become enchanted by the possibilities: garments ranging from simple garter and stockinette to more elaborate cables, bobbles, texture, and lace patterns.
Knitting with eco-friendly undyed wool creates a rich, visually organic theme for the book. The chapters are organized by the natural tones of the yarns: white, gray, and beige. These fine woolens are not only visually stunning, but hold the promise of doing no harm to the environment.
Knitters will be transported by the book's artful photography, taken in one of Sweden's most exotic and famous locations, the Ice Hotel in Jukkasjarvi. Here, stylish knits are viewed in a dreamlike atmosphere, where ice columns and ice crystal crowns in the pillared hall range in color from the iciest light blue to the deepest petroleum blue. The only shivers a knitter will feel are those of pure delight at the contrast of woolen warmth next to icy environs.
Like a modern fairy tale, Shades of Winter will captivate any knitter.
---
We Also Recommend
---