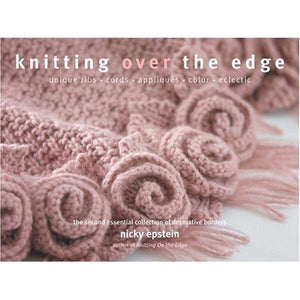 KNITTING OVER THE EDGE
Nicky Epstein, one of today's hottest knitwear designers, has created a fabulous follow-up to last season's bestselling Knitting on the Edge. With hundreds of new and super edgings to try, it's a must-have in every knitting library.

Practically every knitted project needs an edging, and with her hit knitting reference, Knitting on the Edge, Nicky Epstein took the humble traditional rib to new heights. She now proudly presents a companion volume that's equally informative and rich in designs. Knitting Over the Edge takes the craft further, with more than 300 unusual edge combinations and shapings that will add a special, unique touch to any piece. The striking patterns will keep knitters of every level busy experimenting with different types of ties, loops, knots, braids, twists, bobbles and more. The topics explored in depth include cords, appliqués (such as flowers, leaves, hearts, and geometrics), color work, and a host of truly extraordinary corners, angles, bindings, and closures. A Selection of the Crafters Choice Book Club.

Knitwear designer Nicky Epstein has gained nationwide recognition for her informative workshops, her distinctive and innovative work, and her whimsical sense of style. She has authored numerous books including Knitting on the Edge, Crochet for Barbie Doll, and Knits for Barbie Doll. Her designs have also been featured in Vogue Knitting magazine, as well as many other publications, as well as on television and in art exhibitions.
---
We Also Recommend
---