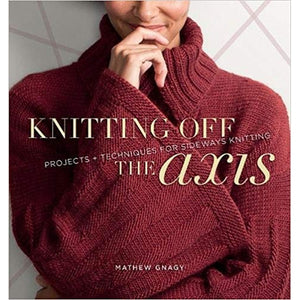 KNITTING OFF THE AXIS
Emerging knitwear designer Mathew Gnagy presents a fresh collection of fifteen projects for women and men with Knitting Off the Axis. The projects are both classic and stylish, incorporating clever combinations of textured stitches and design details.
Each of the fifteen patterns is designed in a one-of-a-kind way, focusing on knitting sideways or in an untraditional direction rather than the usual top-down or bottom-up construction. Knitting at different angles gives the projects unique shaping and fashion-forward silhouettes.
Learn new techniques for knitting sideways and every-which-way and make fifteen contemporary, wearable patterns with Knitting Off the Axis.
---
We Also Recommend
---