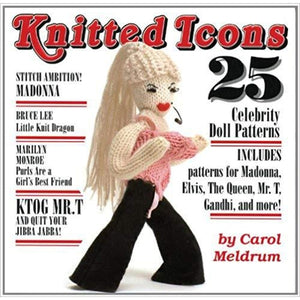 KNITTED ICONS
Knit all your favorite icons—from the King to the Queen!
 
From Madonna and Jackie O to Che Guevara and Chairman Mao, here are step-by-step instructions for creating gorgeous, eerily life-like knitted dolls of 25 legends of the screen, music, sports, and history.
 
Including everyone from Mr. T and Elvis Presley to Gandhi, and Queen Elizabeth II, and even King Kong, Knitted Icons is full of memorable personalities and easy-to-use patterns. Each doll measures a substatial 10 inches tall—suitable for posing on your desk, bookshelf, or doll display of your choice.
 
Every finished doll is photographed in glorious full-color and accompanied by biographical background sidebars, along with evocative quotes from the icons themselves.
---
We Also Recommend
---