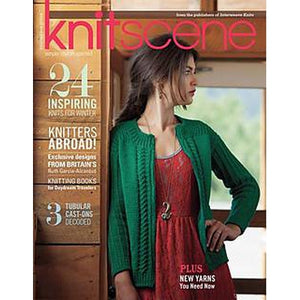 KNITSCENE WINTER 2013
For most knitters, winter is the best season of them all—time to knit cozy cardigans and warm pullovers in the best yarns to be found. Knitscene Winter is the perfect magazine for those knitters, with 24 must-knit projects worked in delicious yarns that make the process thoroughly enjoyable.
Knitscene Winter 2013: The perfect magazine for cozy knits with 24 knitting patterns worked in delicious yarns!
Inside Knitscene Winter 2013:
Knitting gets the royal treatment in a story featuring beautiful purple yarns
Take the road less traveled with a woodsy theme
Tubular cast-ons are demystified in a tutorial and three projects that are destined to become favorites
Featured designer Ruth Garcia-Alcantud gives us the first ever international designer collection.
Plus, enjoy yarn reviews, new knitterly products, and stylish photographing in every issue of knitscene.
WOODS: Celebrate earthy colors and organic stitches with woodsy knits with unique details.
REGAL KNITS: Whatever shade of purple, these berry knits are elegant with feminine details.
International Designs:See Ruth Garcia-Alcantud'smind at work with these inspiring designs.
---
We Also Recommend
---