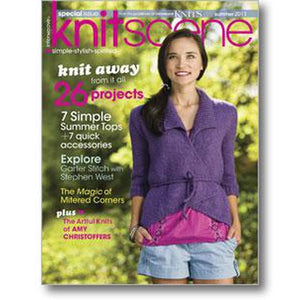 KNITSCENE SUMMER 2011
Who says people don't knit in the summertime?  This is a dynamic time of year, characterized by long days, sun-lit activities, and wild color. We travel, we find time to relax, we spend time in air-conditioning and along the rims of volcanoes.

Knitting fits so well into summertime—it's easy to pack; it makes plane and car rides fly by; it fills the idle hours waiting on a picnic blanket for fireworks; it's the very relaxation we seek. Summer knits don't need to stand shyly by while fall knitting looms like the year's main event.

Knitscene Summer 2011 is brimming with fabulous must-have knits and need-to-know technical info. Every page is inspiring and lively, while the knitting itself is simple and fun.

Explore the wonders and simplicity of garter stitch, learn the magic of mitered corners on garments, meet young designer Amy Christoffers, and fall in love with the summer issue of Knitscene!
Get 26 projects that exemplify what every knitter wants from summer garments. In this first-ever summer issue, Knitscene explores plant fibers, quick and unusual accessories, great layering garments, and fun colors for the summer sun.

Designer Collection
Meet the young designer Amy Christoffers who mixes fine art and knitting to create garments that have unique qualities. Every one of her garments contains texture, color, and a great use of detail that derives their inspiration from art, not fashion. Though Amy Christoffers has only been publishing her designs for a little over a year now, she is sure to be a name you'll see again and again.

Summer Cottage
Create light layers and luxurious fashion statements. These garments are light, airy, but best of all completely chic. They are the perfect items to layer, accessorize and wear in or out. Luscious yarns and interesting details make these garments immediate staples for any wardrobe.

The Freedom of the Sun
Tank tops and t-shirts are classic summer pieces and these tops are sure to keep you cool. The light fibers and simple designs make these tops essentials for summer. Bright colors will add warmth to your outfit and unique details will make you stand out in any crowd.

Sail Away with Garter Stitch
Go back to the basics with garter stitch—the all-too-often forgotten stitch in knitting. Take a look at the different styles that garter stitch can create and then put these into action with seven lovely patterns. Garter stitch takes shape with colorwork, striping, drop stitches, increases, decreases, and so much more!
---
We Also Recommend
---