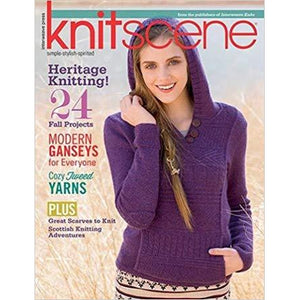 KNITSCENE FALL 2014
Knitscene Fall looks to tradition to inspire 24 of today's hottest knits. Fisherman's ganseys take on a modern twist, and the classic tweed yarn combine with modern silhouettes for this season's must-have looks.
Julia Farwell-Clay's designer collection grafts Victorian sensibility with contemporary knitting, and our scarf collection will keep you warm, any which way.
Plus, Kristen Orme takes us on a tour of knitting in Scotland, while Bristol Ivy teaches us to make fantastic folds in our knitted fabric.
Check out these stylish projects included in the Fall 2014 issue of Knitscene:
Featured Designer: Julia Farwell-Clay
Get to know Julia Farwell-Clay in this designer profile, accompanied by four projects with incredible detail.
Mountainside Scarves
Wrap up in style on chilly autumn mornings with these scarves and wraps. This storyline features five unisex scarves in fall colors and one that preps you for the upcoming holidays!
Campfire Knits:
Sleeping bags, s'mores, and cozy knits... the great outdoors await! Even if you're not the nature-loving type, these knits speak to the classic knitter come fall. Updated ganseys, timeless colorwork, and textural stitches are showcased in eight campfire knitting patterns.
All Things Tweed
A heritage yarn meets modern designs in this storyline, featuring six knits for women.
---
We Also Recommend
---