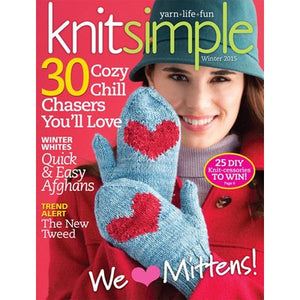 KNIT SIMPLE WINTER 2015
WARM UP IN WINTER WHITES
Big yarns and big needles or hooks equal cushy, quick-to-stitch blankets.
Pattern #1 Eyelet Band Blanket Pattern #2 Cabled Blanket Pattern #3 Crocheted Chevron Blanket Pattern #4 Granny Square Blanket
A POCKETFUL OF COZY
Cushy front pockets and the speck-tacle of flecked fabric give dimension to four wintry wardrobe musts.
Pattern #5 Colorblocked Coat and Cowl Pattern #6 Turtleneck Poncho Pattern #7 Raglan Pullover Pattern #8 Color-Tipped Cardigan
SMITTEN WITH MITTENS
Cushy hand warmers to keep your fingertips toasty.
Pattern #9 Heart-Motif Mittens Pattern #10 Basic Mittens Pattern #11 Striped Mittens Pattern #12 Wave- Patterned Mittens Pattern #13 Cabled Mittens Pattern #14 Fair Isle Mittens Pattern #15 Long Cabled Mittens Pattern #16 Honeycomb Mittens Pattern #17 Thick and Thin Striped Mittens
COZY, COLORFUL AND MADE FOR FUN
Boldly hued kids' accessories to warm up a winters day.
Pattern #18 Striped Hat and Cowl Pattern #19 Zigzag Cardigan Pattern #20 Striped Scarf Pattern #21 Boot Toppers Pattern #22 Textured Hat Pattern #23 Colorblock Poncho
MOD MOSAICS
Easy slip-stitch colorwork redefines a classic technique.
Pattern #24 Mosaic Scarf Pattern #25 Double Happiness Mosaic Pillows Pattern #26 Blanket Poncho Pattern #27 Mosaic Sample Circle Scarf Pattern #28 Mosaic Baby Blanket
KNIT-ALONG WITH VICKIE HOWELL
Holy cowl! A mega-bulky cowl that can also be worn as a snood.
---
We Also Recommend
---