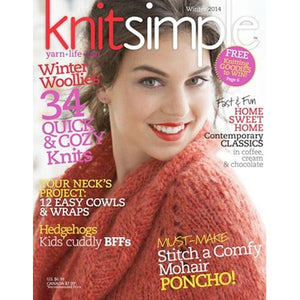 KNIT SIMPLE WINTER 2014
Wrap Stars
Off the needles and on your shoulders in no time: Five quick and easy wraps and ponchos.
(Hedge)hog Wild
Stuffed or as sweet motifs, these softies are destined to be your kids' new BFFs.
With All My Heart
Show how much you care with our trio of sweet heart-motif chill chasers.
Seven Days of Style
Classic cowl designs for every day of the week.
One Sweater, Four Looks
Change up a simple silhouette to create a quartet of custom looks.
Home, Sweet Home
Spruce up your living areas with simple but chic projects in go-with-everything colors.
Vickie Howell
Extra-long honeycomb pompom scarf. Twelfth in Vickie's knit-along series.
---
We Also Recommend
---