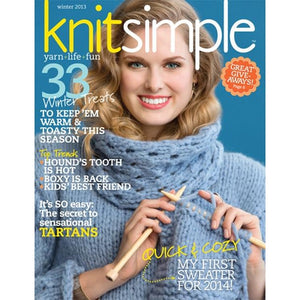 KNIT SIMPLE WINTER 2013
Easy as One, Two, Three
Start off the new year with a chunky, quick-knitting pullover. (We show you how.)
Check Mates
His-and-her statement knits in bold hound's-tooth colorwork.
Color My World
Interesting stitchwork + pretty color combos = fashion-forward accessories.
Cutting Loose
Boxy's back! Spice up oversized silhouettes with geometric blocks of color.
We Know What Guys Like
Classic looks he'll actually want to wear.
Kids' Best Friend
Canine motifs embellish these pet projects.
Mad for Plaid
Pillows and afghans with a tartan touch.
Stitch Rock Knit-Along with VICKIE HOWELL
Drop-stitch leg warmers. Eighth in Vickie's knit-along series.
---
We Also Recommend
---