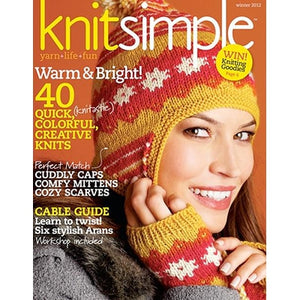 KNIT SIMPLE WINTER 2012
In Sync With Gray and Pink
Breezy Aran-style cables—the perfect complement to our favorite color combo.
Frills for Chills
Stylish accessories to keep you toasty.
Textured Afghans
Two crisp coverlets—one apple red, the other pumpkin spice—to warm up your home.
Back in the Hood
Chill, what chill? Cozy up in our enticing hooded garments.
Toggle Mania
Securing a sweater is fast and fetching when you break out the toggles.
Baby, It's Fun Outside
Kids' romp-in-the-snow-wear gets animated, adorned with adorable polar pals.
Knit-Along with Vickie Howell
Vickie indulges in a little Wristful Thinking. The latest in her knit-along series.
---
We Also Recommend
---