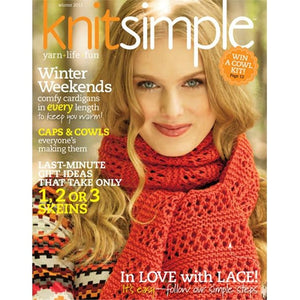 KNIT SIMPLE WINTER 2011
Weekend Getaway
Come Saturday, swap that buttoned-down office look for a cardi that's casually cozy.
Graphic Design
No accessory warms a room like a cozy, down-home sampler blanket. Our quilt-inspired afghans—one knit, one crocheted—play with palettes and geometrics in charming ways.
Shawl We Knit?
A perfect accent speaks volumes about your personal style.
Head & Shoulders
Casually chic cowls, capes and caps in eye-catching combos.
Knitting by Numbers
Who's counting? We are! Great accessories knit up 1, 2, 3 with just that many balls of yarn. It's maximum flair with minimal effort.
Wild Kingdom
Safari, so good! Trek through designer Amy Bahrt's animated imagination and liven up a young explorer's lair with a pair of the most huggable, knittable jungle cats you'll ever encounter.
---
We Also Recommend
---