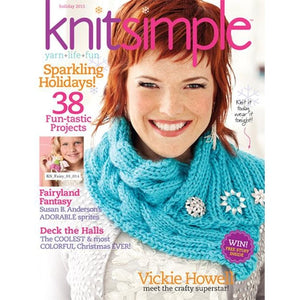 KNIT SIMPLE HOLIDAY 2011
A Family Album
Gather your loved ones and smile for the camera in picture-perfect knits worthy of holiday greeting cards.
Deck the Halls!
Knitted garlands and ornaments add an unexpected dash of yarny cheer to your holiday décor.
Vickie Howell
Stitching along in high gear and loving every minute of it.
All the Trimmings!
'Tis the season to celebrate! Our scene stealing accessories, knit in glam-slam yarns, enhance any party wardrobe.
Plum Perfect
Outerwear on the ultra-violet spectrum combines figure-flattering silhouettes with purple's multihued majesty.
Baby, baby, baby...Oh!
Layette trios so nice, we hail themthrice. Cohesive cables and lovely lace link the sets, though each piece charms on its own.
Flora & Fairies
Do you believe? Our flock of whimsical fairies (and their tulip-petal home) capture the imagination.
---
We Also Recommend
---