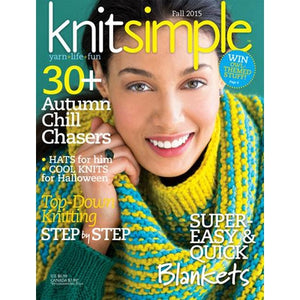 KNIT SIMPLE FALL 2015
A WARM WELCOME
Smashing pumpkin and leaf motifs they're sure to fall for.
Pattern #1 Motif Cardigan Pattern #1 Motif Scarf Pattern #2 Pumpkin-Pocket Sweater Pattern #3 Market Bags Pattern #3 Market Bags Pattern #4 Owl Sweater Pattern #4 Ribbed Scarf Pattern #5 Owl Toy Pattern #6 Pumpkin Hat Pattern #7 Stuffed Pumpkin Pattern #8 Ribbed SCarf and Pumpkin Mittens
HOME AWAY FROM HOME
Chill-chasing accessories that make wherever you re feel like home.
Pattern #9 Ribbed Throw Pattern #10 Pillows Pattern #11 Ottoman Cover Pattern #12 Slip-Stitch Blanket Pattern #13 Striped Cowls Pattern #13 Striped Cowls Pattern #14 Crocheted Diamonds Blanket Pattern #15 Striped Blanket Pattern #16 Crocheted Blanket
IT'S A GUY THING
Knitting for a choosy chap? These hats, mitts and scarves are guaranteed to get repeat wear.
Pattern #17 Garter-Stitch Cap Pattern #18 Fisherman's-Rib Cap Pattern #19 Striped Hat and Mittens Pattern #20 Ribbed Hat Pattern #21 Textured Hat Pattern #22 Cabled Hat Pattern #23 Colorblock Hat Pattern #24 Two-Color Hat
THE LOW DOWN ON TOP-DOWN KNITTING
News flash! These four pullovers are all worked using the same basic drop shoulder, from-the-top method.
Pattern #25 Striped Pullover Pattern #26 Cable and Rib Pullover Pattern #27 Honeycomb Yke Pullover Pattern #28 Chevron Mock Turtleneck
VICKIE HOWELL
Unisex Chevron Beanie. Fourteenth in Vickie's knit-along series.
---
We Also Recommend
---