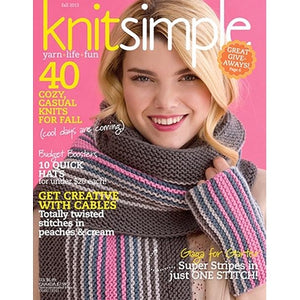 KNIT SIMPLE FALL 2013
Coral Cables
Pretty cables come to life in orangey autumn like shades.
Hats Off
Our colorful headgear gives you plenty of bang for your buck.
Statement Blankets
Boldly hued blankets in eye-catching geometrics patterns brighten any room.
Mix, Match, and Make
Chunky, quick-knit scarves, totes and fingerless mitts, plus a clever shawl-style top.
Just Us Kids
Sneaker-motif mittens, anyone? Playful knits for girls, designed to tickle their fancy.
Stitch Rock Knit-along with VICKIE HOWELL
A sweet lacy cardi for Baby. The latest in her knit-along series.
---
We Also Recommend
---