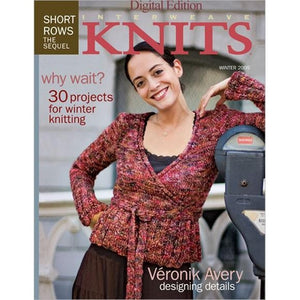 INTERWEAVE KNITS WINTER 2005
This issue of Interweave Knits includes over a dozen women's tops, a long winter coat, several jackets including a loose-fitting flared swing jacket, a Fair Isle pullover, a very cool pair of felted mukluks with furry trim, a gored skirt, lacy leaf socks, a scarf with a very unusual knitted "finger" fringe, and a tweed beret. Designers in this issue include Katy Ryan, Jennifer L. Appleby, Debbie Bliss, Kathy Zimmerman, Mary Jane Mucklestone, Annie Modesitt, Veronik Avery, Ann Budd, Kate Gilbert, Kristin Nicholas, Teva Durham, Erica Alexander, Leigh Radford, Gayle Roehm, Mona Schmidt, Natalie Wilson, Shirley Paden, Norah Gaughan, Di Gilpin, and Kim Hamlin. 

The features article "Beyond the Basics: Short Rows, The Sequel," by Veronik Avery describes the most common ways that short rows are used in basic knitting patterns: (1) as a substitute for stepped bind-offs, (2) to add length to particular areas, (3) to create a pouch in place of darts or gussets, and (4) to shape a curved edge (on hats, skirts, etc.). 
---
We Also Recommend
---