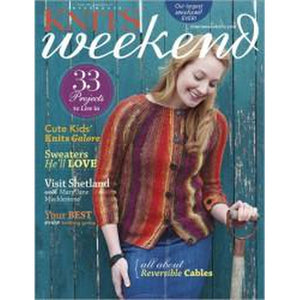 INTERWEAVE KNITS WEEKEND 2011
With 33 projects for you, all the ones you love, and your home, Interweave Knits Weekend 2011 is all about casual, simple knitting for every day.
This special issue from the editors of Interweave Knits, Interweave Knits Weekend 2011 includes 144 pages of knitting tips, techniques, articles, product reviews, and over 30 patterns for all skill levels.
With Interweave Knits Weekend 2011 you'll:
Celebrate spring with simple stitches with big impact
Welcome summer with colorful yarns and easy lace projects
Get ready for fall with tweedy cables and surprising colorwork
Learn how to embellish pretty little things for winter
And cozy up all weekends of the year with projects for the whole family, no matter the weather
Plus, Interweave Knits Weekend 2011 features a scarf style tutorial showing you multiple ways to wear a scarf or stole, a Shetland adventure in wool, tips for washing your handknits, and advice on getting together successful knitting groups.
The cover photo shows a sideways-knitted cardigan using Noro Kureyon yarn - using 7, 8, 9, 10, 11, 13 or 14 balls for finished sizes 30.25, 34.25, 38.25, 42.25, 46.25, 50.25 or 54.25" bust.
---
We Also Recommend
---