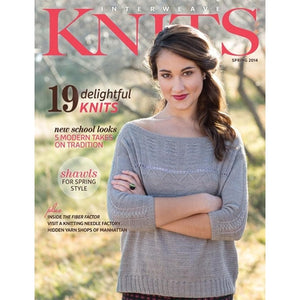 INTERWEAVE KNITS SPRING 2014
The Spring issue of Interweave Knits takes readers on a treasure hunt through the world of knitting, from the hidden yarn shops of Manhattan, to a flea market of tools and trinkets, to an eclectic and vintage-inspired collection of sweaters and accessories.
Knit 19 delightful projects for spring, these projects have character and interest in abundance. Knit shawls for spring, jackets and pullovers to layer, and more.
Interweave Knits Spring 2014 also features a visit to a knitting needle factory, tips for holding yarns for colorwork knitting, and more
---
We Also Recommend
---