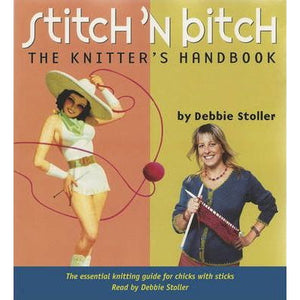 STITCH 'N BITCH AUDIO BOOK
So, you have tried learning to knit from a book before and just could not really sustain the impetus to get to the point of finishing what you started.

Well, this audio book read by Debbie Stoller, based on the related contemporary tome,  explains how people used to learn to knit: public school classes, social groups, friends who knit together; so you realize that she is suggesting that learning and doing with a group, a Stitch N Bitch, is the way to finish projects and get tips for problems and just see someone else finish a project similar to yours. The projects reflect an interest in what appeals to young people, contemporary, fashionable, and cool. Find your bunch of knitters.

Learn how to knit with this essential guide for chicks with sticks. Stitch'n Bitch is an irreverent, witty, guide to knitting which became a New York Times bestseller and made it possible to use the words "hip" and "knit" in the same sentence. Stoller's sass will have you laughing over your knit and purl stitches.
Content: 3 CDs
Running Time: 3 hours 19 minutes
Note: Patterns from the Stitch'n Bitch paperback or hardback book are not Included
---
We Also Recommend
---