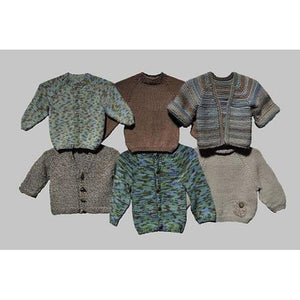 KID'S BASIC BOTTOM UP RAGLAN
Brand: Ann Norling
Designer: Ann Norling
Skill Level: Advanced Beginner
Craft: Knitting
Pattern Type(s): Sweater
To Fit Size: 6 months to 8 years
Finished Size: Chest measurements: 18-30"
Materials: Worsted Weight (275 - 1100 yards - dependent on desired size and gauge)
Gauge: 3.5, 4, 5, 5.5 sts/inch
Needles: Dependent on size.  Straight needle sleeves knit flat, DB for sleeves knit in round, 16" or 24" circular for ribbing.  16" circular for sizes 18" to 22",  24" circular for sizes 24" to 30".
Work the sleeves first either flat or in the round.  Then work the body to the underarms and attach the sleeves.  From this point on it is worked in one piece.  You have lots of choices: pullover (V-neck or crew neck) or cardigan (V-neck or crew neck).  Experiment with color, texture, mixing colors and adding pattern stitches.  The ribbing can be done in K1P1, seed stitch, garter stitch, or just start knitting and let the edge roll.
Do a gauge swatch with your chosen yarn and use the needles taht are recommended on the label.  Match it to one of the gauges and pick the size you want to make based on the finished measurements desired.
 Mfg ID: #49
---
We Also Recommend
---