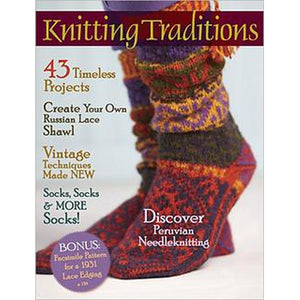 KNITTING TRADITIONS WINTER 2010
Indulge your passion for knitting with Knitting Traditions! This 148-page special publication from PieceWork magazine presents more than 40 projects--socks, shawls and scarves, items for baby, a variety of hand coverings, hats,  squares and edgings, and finger puppets--each with a story that provides historical context. Here are just a few examples: Peruvians used a technique--knitting's precursor--called cross looping or needleknitting to fashion exquisite, tiny figures, using cactus thorns as needles, between 200 B.C. and A.D. 200. Fourteenth-century Italian artists painted pictures of the Madonna knitting. A glove with a romantic history knitted in Sweden during the sixteenth-century is preserved in a museum. Swedish knitters have been using the two-end technique since at least the seventeenth century. By the mid-eighteenth century, Russian shawls from Orenburg achieved international status. Prolific Victorian knitters fashioned all sorts of knitted items in the nineteenth century. German designers were producing hundreds of patterns for "art knitting" in the early decades of the twentieth century. And a veritable "Who's Who" of late-twentieth- and early-twenty-first-century knitting designers share their passion within these pages! 

The collection includes 148 beautifully photographed and project-packed pages and 43 timeless projects that knitters will love.  This issue includes:

Small projects - bags, caps, mittens, gloves, edgings and trims.

Techniques -

 

Swedish two-end knitting, Native American sweater knitting, and more.

Socks Galore -

 

including how to knit two at once, one inside the other!

And of course, much more......
---
We Also Recommend
---