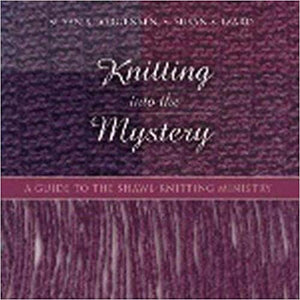 KNITTING INTO THE MYSTERY
Knitters there are 38 million of them in the United States alone - are part of a long and quiet tradition that's both plainly practical and deeply spiritual. With needles clicking, they weave together not just garments to warm the body but also comfort and companionship to nurture the soul.
This tradition is flowering today through knitting ministries, a worldwide ecumenical movement of small groups of women who gather to pray and knit for those in need. As they create shawls for people burdened with illness and sorrow, their handiwork becomes an expression, not only of their love and concern, but also of the loving care of the God who works through them.
In this beautifully illustrated book, the authors - a United Church of Christ minister and a Roman Catholic laywoman - share stories of how the knitting ministry has touched lives and hearts around the world. They offer directions for knitting the shawls and for starting a parish or community knitting ministry. The book also provides a selection of prayers, written from many faith traditions, to offer along with each completed shawl.
---
We Also Recommend
---